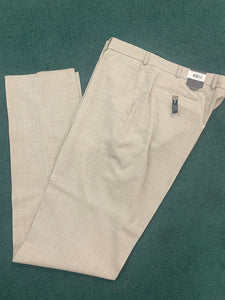 Slacks -Ballin- Sand Houndstooth-Slim Fit
Bi-Stretch Performance Linen
53% Polyester, 25% Wool, 20% Linen, 2% Elastan
270 Grms
Super Stretch Jersery Comfort
High performance blend that combines linen with hi-tech performance yarns, wool and lycra. Boasting 25% stretch in all directions, for extreme comfort. This unique blend also makes for a washable pant that is wrinkle resistant, super light weight and extremely breathable - the perfect summer business casual performance pant for hot and humid climates. Designed to fit your day, wherever life moves you.
Flat Front - Washable
9274 SOHO - Modern Fit
Rise: 9 3/4"
Knee: 18 1/2"
Bottom: 16"
Inseam: 38" Unfinished